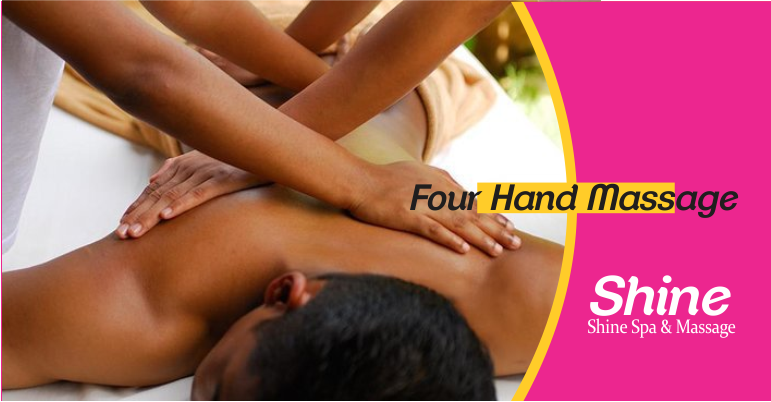 Four Hand Massage
Four-handed massage is a massage where two therapists work on you at the same time, mirroring each others' movements in order to give clients a more comprehensive treatment.

To synchronize, one therapist will take the lead while the other follows, and it will typically feel like both are doing the same thing simultaneously. For example, one might be working on one arm or leg at the same time as the other or one therapist will work on the right side of your back while the other works on the left side.

Typically, massage therapists who give four-handed massages will have worked together in the past to be able to offer more synchronicity in their movement, pressure, and pace. As a result, four-handed massages, also known as duo massages, often cost twice that of regular massages.
Benifits of Four Hand Massage

Although four-handed massages might not be for everyone—especially those who are extremely sensitive to touch—they are especially good for people who have challenges letting go and relaxing during a massage.
You might be inclined to try to keep up with which therapist is where when the treatment first starts off, but as both go to work massaging your entire body, you'll soon lose track of what each therapist is doing, allowing you to fully relax into the touch.
Massage Offered
Contact Details
Address :Akshar Complex, Shop No 17, Shreeji Heights, Near Palm Beach Rd, Sector-46/A, Seawoods, Navi Mumbai, Maharashtra 400706
Phone :8956319664
Email :atharavaspa@yahoo.com